Need A Referral? Ask Your Grandfather!
We've Been In Business Over 67 Years!
Sims Radiator is a part of Metro Atlanta's history! In early spring of 1922, Clay Sims was born into a hard working family on a small tenant farm in Winder, GA. After serving a tour of Europe in the Army during WWII, he worked as a welder in the shipyards of Mobile, Alabama. He later settled in Atlanta and in 1949 put his trade to use and rented a shop from Hoolie Wilburn across the street from Decatur High School to open a radiator repair shop named aptly – Sims Radiator Service. His brother, Lamar Sims, also a welder, soon joined him and the two worked side by side for the next 35 years, along the way employing and training more repairmen, mechanics, drivers, and their own sons to join them in the business.
As they experienced success in their new career, they hired more help and moved into a larger shop across the street from the Decatur train station. Clay's son, Alan and two grandsons. Charlie and Chris, still head up the operation, with the corporate offices of Sims Radiator Service located in Tucker. Over the years the company has employed 18 different family members, mostly as summer vacation helpers.
Sims Radiator Service currently has shop locations in Lawrenceville and Conyers and our main office in Tucker and employs 19 people, making us the largest radiator shop business in the Atlanta area.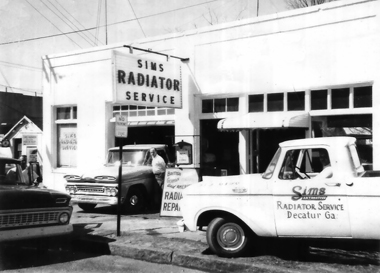 Sims Radiator Service had been in business for 17 years when this photo was taken.